Get New Looking Cabinets with Professional Cabinet Refinishing in Cedar Rapids
Your kitchen is the epicenter of your home and one of the most useful and, consequently, most used rooms in your home. For these reasons, you need to keep your kitchen looking and functioning its best.
But it can be hard to keep your kitchen in that kind of condition when its cabinets begin to wear down. Unfortunately, it's all but inevitable that your kitchen cabinets will reach such a state since you'll use them so often and cook around them every day, leaving them worn and spattered with food.
Fortunately, if your kitchen cabinets have worn down to such a point, you can easily get them and your kitchen looking their best once more. For that, just call Mike Wolfe Painting for a kitchen cabinet refinishing!

Restore Your Kitchen Cabinets At An Affordable Price
If your kitchen cabinets have worn down over the years, the kitchen itself will lose a significant portion of its value -- as will your home. This can be a problem should you want to sell your home and find that shoddy cabinets prevent you from commanding the highest price for your home.
You might consider replacing those worn-out cabinets as a solution to this problem, but considering how costly that process can be, you might find that the expense cancels out the increased property value you're after.
Instead, call your Cedar Rapids Painting Contractor to get your worn cabinets looking beautiful and new once more. With a kitchen cabinet refinishing, we can help to retain your home's value at a great cost, providing an unbeatable financial benefit!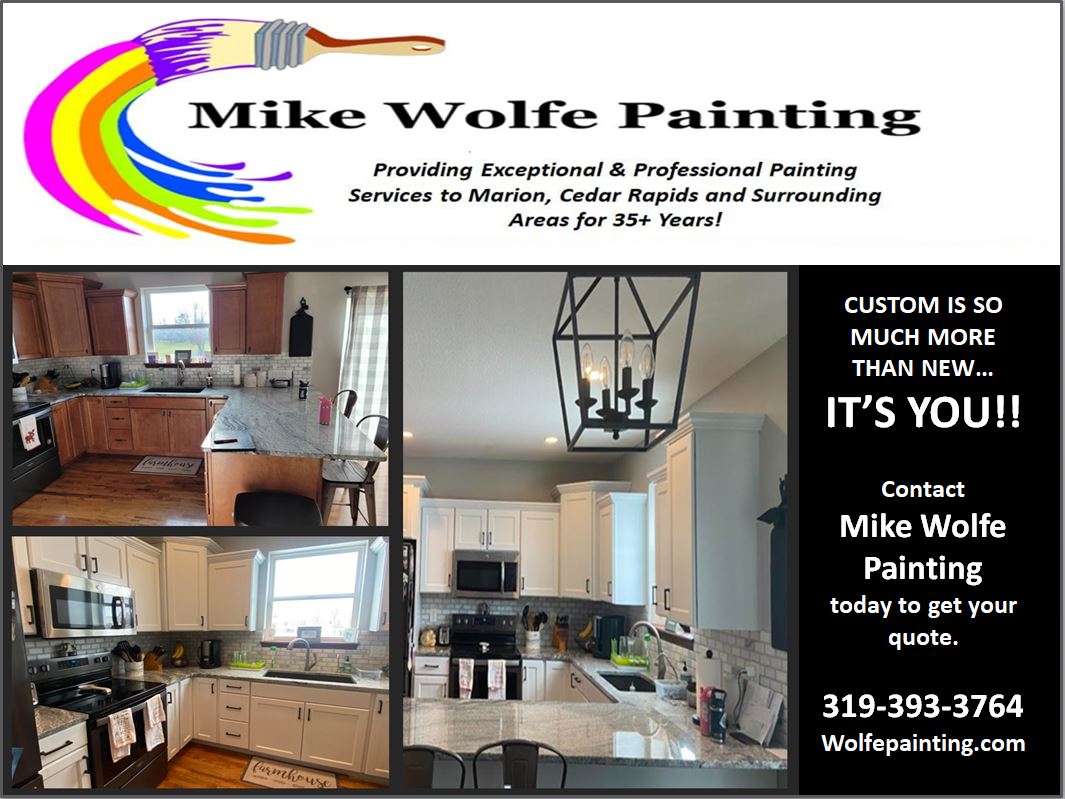 Help The Enviroment By Painting Your Old Cabinets
Maybe the money aspect doesn't bother you and you're more than happy to pay the higher cost for a full-blown cabinet replacement. You can always make more money, after all.
However, though there's always more money, there's only one earth. So, we have to do what we can to keep our one earth healthy and strong. And a great way to do your part for the good of the environment is to reuse rather than replace.
So, as you consider what to do with your worn-out cabinets, consider taking the environmentally friendly route and have them refinished. While saving money, you'll also be saving the environment as you avoid producing more waste and using more resources for new cabinets.
For a quality professional kitchen cabinet refinishing, call the experienced pros at Mike Wolfe Painting. For over 20 years, we have provided residents in and around Cedar Rapids with excellent cabinet refinishing work.
Photo Gallery
Recent Projects Completed
Recent Articles
The exterior half of your Cedar Rapids business provides the first impression of your company in terms of appearance and even customer service. […]
Read More
If you own your own business, you're responsible for more than just your own financial well-being: You're also responsible for the financial well-beings of your employees. […]
Read More
If you are looking for Cedar Rapids Kitchen Cabinet Refinishing then please call 319-393-3764 or complete our